Dear customers,
We would like to thank you for the trusting and successful cooperation.
You know us as a reliable and efficient partner. From our long-standing business relationship, you know that the value for your money as well as the quality of our products is exceptional and we are always working on continuous product improvements.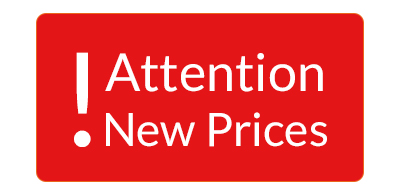 We are currently facing increased costs in a wide range of areas such as transport, storage, packaging materials, electricity and wages. Thanks to the purchasing and operational organization within BVC EBS Distribution GmbH, we have succeeded in significantly reducing the impact of this cost increase. However, we are unable to fully compensate for the increases. Please understand that now a price adjustment for our products is necessary.
We hereby announce that prices for all orders will be increased by 4.25% as of April 01, 2019. Existing order agreements are, insofar as they are within the agreed validity period, excluded from this price adjustment.
As materials prices continue to climb, we will monitor the situation closely and inform you if the negative impact of further increases in raw material costs cannot be met.
We look forward to supplying you with our high-quality products in the future as well. Thank you for your cooperation!
Your BVC EBS Distribution Team
The relocation of the BVC Factory from London to Lissabon is complete!
We proudly present the BVC product innovations for 2021! Our customers ask us continuosly for smart storage options for vacuum hoses. So we added the Vroom Retract Vac hose retraction system and the QuickRoll hose reel to our product range.