Make sure that floors in your home are vacuumed fully automatically, everyday!
The robot vacuum cleaner with mop has various cleaning modes that can be set with the help of the control app for your phone or tablet.
The robot docking station has an automatic self-emptying function that emties the dust and debris directly into your main central vacuum and then charges the battery.
Advantages of  BVC Vactronic Robot vacuum and mop:
• Robot vacuum with adjustable suction power 2,700 PA
• Robot vacuum cleaner with mop function
• Suitable for hard floors and carpets
• An automatic recharge and emptying station
• Easy App control with iOS or Android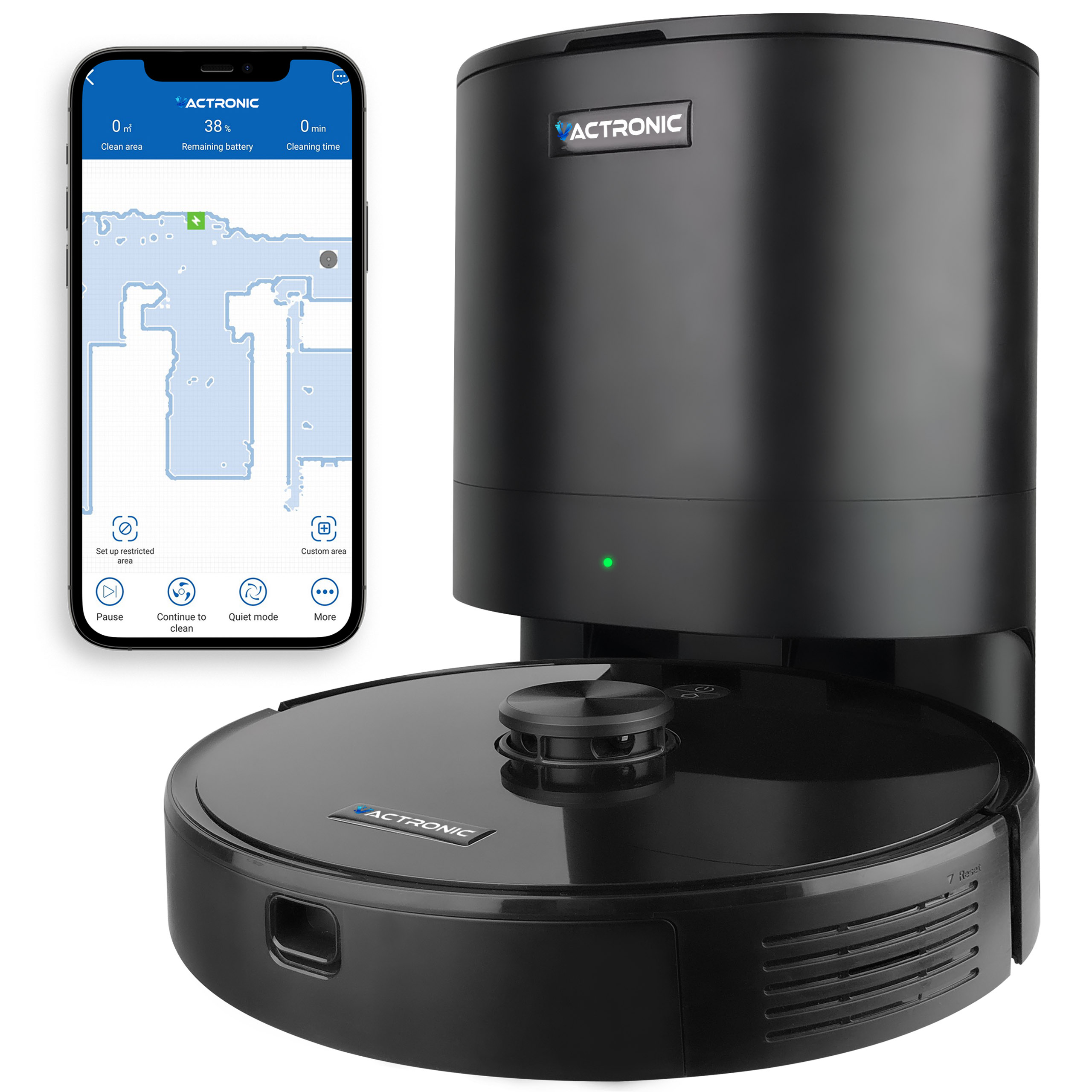 Dust and debris are automaticly transported to your BVC central vacuum
1. After emptying the robot will automatically continue to clean where it stopped before returning to the docking station
2. Daily cleaning schedule can be programmed
3. Equipped with a HEPA 13 filter
4. Equipped with 2 long side brushes to get the dust and dirt out of all the corners
5. Vacuuming and mopping can be done in one process
Technical Data Charging-Suction Station
Dimensions
Weight
Rated Power
Input rating
Output rating
Item #
255 x 225 x 340 mm
2.700 g
1050 W
100-240 V ~ 50/60 Hz
DC24V = 1.2 A
20990
The charging / suction station is designed to suck up the dust from the vacuum and floor mopping robot. The dust is then passed through the pipe system to the central vacuum cleaner. This means that the robot and suction station are free from dust. When the vacuum and floor mopping robot is docked, the battery is charged with electricity.
Technical Data Vactronic Robot vacuum and mop
Dimensions
Weight
Rated voltage
Rated power
Battery capacity
Suction power
350 x 350 x 98 mm
3.300 g
50 W
14.4 V
5200mAh
to 2700 Pa
The robot vacuum cleaner is used to clean floors in the home. It has 4 cliff sensors at the bottom of the main unit, a wall sensor at the bottom of the main unit, an additional infrared charging sensor and a charging station at the bottom of the main unit. It cleans with brushes and can also be equipped with a mop. The vacuum robot is operated with a rechargeable battery and controlled by smartphone. If the battery level is low or the dust container is full, it automatically returns to the suction station.
Order
You can order the devices and accessories from your BVC representative in your country by specifying the article number.
Are you a new customer? We are happy to call you a BVC dealer in your area. Please contact us by e-mail or via the contact form.
You may find this also interesting!